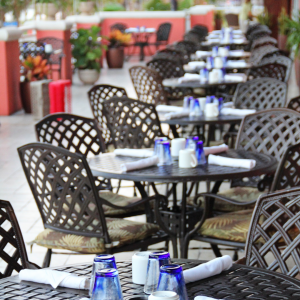 Outdoor dining would be permanently permitted under a new law being considered by the Moorestown Township Council.
The state has extended outdoor dining for restaurants until the end of November 2022. However, Moorestown Council members reviewed a draft of their own ordinance at an August 20 meeting.
"I'm all for it, I just want to make sure that we get it right if we're going to make this permanent," Deputy Mayor Susan Mammarella told other Council members at the review. "Everyone loves the vibrancy on Main Street and other places. Everyone likes their outdoor dining."
70and73.com last week requested a copy of the draft ordinance under the state Open Public Records Act. However, the request to review the draft was denied by Patricia Hunt, the Township records custodian. She said in her denial to 70and73.com that such draft documents do not have to be made public, so Moorestown will not release the information.
The state in July 2020 permitted outdoor dining to assist the restaurant industry, which had been hard hit first by shutdowns during the pandemic and then by indoor capacity restrictions.
"Over the last eight months, many municipalities have already allowed restaurants to expand their premises into public spaces, and I applaud their creativity in facilitating outdoor dining," Gov. Phil Murphy, a Democrat, said in a statement in February when he signed the legislation extending outdoor dining to 2022. Murphy is running for re-election in November.
The new state law continues to allow restaurants to expand into public spaces, such as sidewalks, to shore up their businesses. The law specifies the permissions needed from the local municipality for the outdoor dining permit.
Capacity restrictions for restaurants have been relaxed by the state, but the outdoor dining law will remain in effect until late next year.
For local communities like Moorestown, a permanent outdoor dining program could involve broad zoning law changes.
Parking, for example, came up during the Moorestown review. Municipalities usually have zoning standards for the number of parking spaces that are tied to restaurant capacity or number of tables. Would adding outdoor dining capacity require additional parking? And what if some parking spaces are being sacrificed to make room for outdoor dining?
Other concerns by Council members included the regulation of heaters on sidewalks for diners, the types of tables and chairs used and what kinds of enclosures for the dining area would be permitted. Avoid the large orange plastic cones, one member said.
Restaurants no longer would need to seek a zoning variance for outdoor dining under the Moorestown ordinance. However, if a restaurant objected to the conditions cited in the ordinance, its owners could go to the Planning Board and seek variances, the Council was told.
Other municipalities see no rush to enact their own ordinances.
Cherry Hill does not view a local law as an issue until the state law expires next year, said Michelle Caffrey, Cherry Hill's communications director.
"Ahead of the November 2022 deadline, Mayor and Council will continue to keep a close eye on state regulations and work with the Township's professionals and local business owners to see if there's any action the Township may want to take in the future to continue to support them and help them thrive in the wake of the pandemic," she told 70and73.com. "Both the Mayor and Council are definitely glad to see that more than a dozen restaurants in the Township are continuing to take advantage of the Temporary Use Permit, helping to bolster both the businesses' own bottom lines and the local economy."
*Article Courtesy of 70 and 73
For more information about Moorestown retail space for sale or lease in Moorestown or about any other Moorestown properties for sale or lease, please contact WCRE at 856-857-6300.
Wolf Commercial Real Estate, a full-service CORFAC International brokerage and advisory firm, is a premier Moorestown commercial real estate broker that provides a full range of Allentown commercial real estate listings and services, property management services, and marketing commercial offices, medical properties, industrial properties, land properties, retail buildings and other Moorestown commercial properties for buyers, tenants, investors and sellers.
Please visit our websites for a full listing of Moorestown commercial properties for lease or sale through our Moorestown commercial real estate brokerage firm.